Michigan, USA, January 18, 2017: Integrated Sensing Systems, Inc. (ISS), the industry leader in MEMS fluidic technology, is launching the next-generation MassSense® Liquid and Gas Density Meters (LDM & GDM 6500) and Liquid Flow Meter (LFM 5000). These products are the first in a suite of products that ISS is scheduled to launch in 2017, including high-performance gas flowmeters (GFM 6500).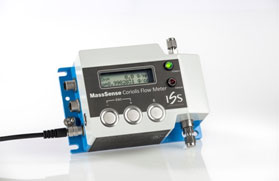 MassSense® Density Meter (LDM & GDM 6500) is the world's most sensitive in-line density meter at 6.5 digits of resolution. It is so sensitive that it is capable of measuring Hydrogen concentration in Nitrogen at low pressures. This density meter offers the features of an analytical device at a fraction of its cost and with real-time response, is immune to external vibrations, and is rugged enough for placement on fuel trucks.
MassSense® Liquid Flow Meter (LFM 5000) is the first product of a family of low-flow Coriolis meters based on ISS' technological breakthroughs to make them viable for different new applications. In particular, LFM overcomes major shortcomings for current low-flow Coriolis meters, including high zero flow instability, vibration sensitivity, high pressure drop, low density resolution, and drift over time. LFM 5000 measurement range is 0-5,000 gr/hr and is immune to external vibrations with fast response for manufacturing automation.
MassSense® Gas Flow Meter (GFM 6500): The next product will be gas flowmeter GFM 6500 with breakthrough performance and stability for gaseous applications. It offers 100-1 turndown ratio at 0.5% reading accuracy with high zero flow stability and fully-compensated drift over time. There will be 3 different sensors covering 0-100 sccm, 0-500 sccm, and 0-1000sccm direct flow. "The optimized MEMS sensors in the GFM 6500 will allow direct Coriolis gas flow measurement with unprecedented stability and resolution, covering multiple ranges" said Nader Najafi, ISS CEO. ISS is also working on corrosion-resistant Coriolis meters for demanding applications.
Rick Smith, Director of Fluidic Product Development at ISS added, "Our MEMS chip-based sensor has significant performance and reliability advantages over the steel tube flow and density sensors." Similar to what MEMS technology has done for gyroscopes, air bag deployment sensors and inkjet printers, we bring the high-performance capability of MEMS technology to the mass flow world.
Najafi stated that the heart of the MassSense® meters is a patented silicon sensing tube that vibrates at a very high frequency, above 20 kHz, which eliminates the impact of environmental vibrations while offering ultra-accuracy. Silicon sensing tube technology is lighter and stronger than traditional metal sensing technology. Engineered and built by the ISS team in Michigan, the meters represent over 20 years of research and development. Integrated Sensing Systems (ISS) is a proven leader with over 20 years of experience with MEMS vibrating silicon technology.
About Integrated Sensing Systems, Inc. (ISS): ISS is a leader in advanced MEMS technologies for design and manufacturing of medical devices. Founded in 1995, ISS is one of the oldest independent medical MEMS companies in the United States. ISS operates a comprehensive, state-of-the-art MEMS fabrication facility located near Ann Arbor, Michigan. ISS is currently certified for ISO 9001:2008, EN13980:2002 for ATEX (intrinsically safe products), and ISO13485:2003 for Class III medical devices. ISS is a vertically integrated company, dedicated to developing and manufacturing system-level products based on MEMS technology (MEMS Inside), please visit: http://mems-iss.com or metersolutions.com
Source: Integrated Sensing Systems, Inc. (ISS)
Contact:
Rick Smith
Integrated Sensing Systems Inc. (ISS)
391 Airport Industrial Dr., Ypsilanti, MI 48198
Tel: (734) 547-9896 Ext. 109
Fax: (734) 547-9964
Email: [email protected]